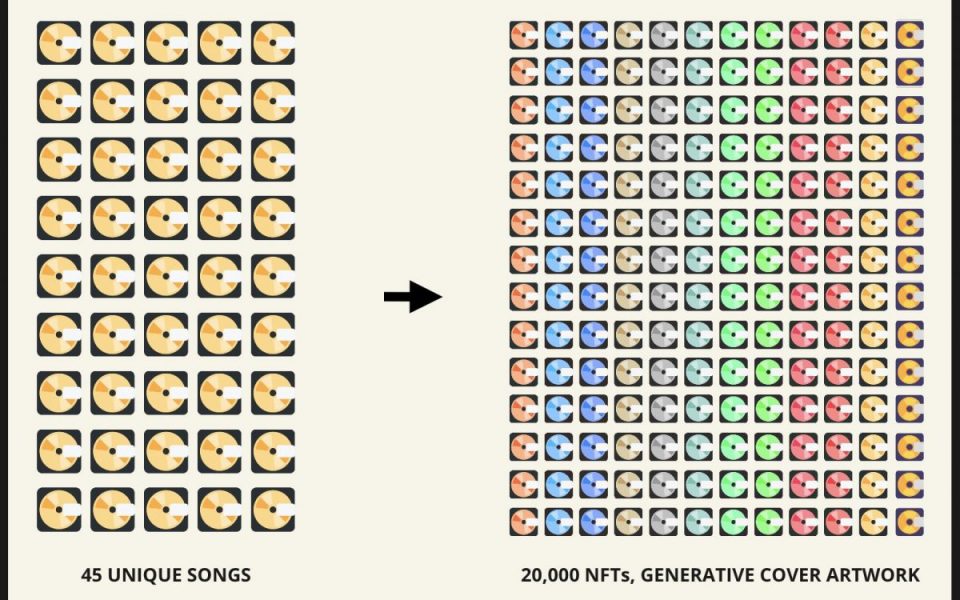 What Do You Call a Headless 77-Person Web3 Band?
You call it Chaos of course. Camp Chaos.
This is the name of the latest project from SongCamp (SC), a collective Web3 laboratory experimenting at the edges of music and blockchain technology. With Camp Chaos, SC brought together 77 individuals from all over the world to launch what is, in essence, a music NFT hackathon.
The goal of Chaos is to create 45 songs to be released as an NFT collection totaling over 20,000 unique tokens. Transforming this Web3 music camp from an idea into a reality seems to have been anything but clear cut.
Billed as a headless band, the project is a true mish-mosh of musicians, visual artists, engineers, and more, each contributing to the grand vision of Chaos. With the project's NFT release set to go live on June 3, we sat down with SongCamp members Greydient, Mark Redito, and Matthew Chaim to find out how an endeavor of this magnitude came together in the first place, and how in the world it all works.
How does Chaos work?
Chaos is comprised of 77 members. Of these individuals, there are 45 musicians, nine visual artists, seven operatives, six engineers, five radio producers, three economists, and two loremasters keeping the wheels turning.
Of course, the immensity of this project was calculated, as SC had already cut their teeth on two previous experiments, or "camps" that were somewhat similar in nature — Camp Genesis, then Camp Elektra. Each of these camps was much smaller in stature, releasing only a handful of songs from an only slightly larger handful of artists. What's more, because of the sheer size and scope of these camps, SC is only able to run about two per year.
"All of these [experiments] sort of add to each other. We carry learnings from previous camps on to the next one and on to the next one," Redito said in an interview with nft now. "The main concept [for Chaos] was that of a headless band. What would it look like?"
As an answer to his own question, Redito and the SC team decided that this headless band would take the form of seven unique camps: Music, Visual, Build, Radio, Lore, Economics, and Operations. To further provide structure to the overarching project, these camps were then divided into houses or teams (where applicable) to work independently towards the overarching goal of Chaos.
Now, the scope of most of these seven Chaos camps is pretty straightforward. Music makes music, Visual makes visual art, and Build is focused on building smart contracts, etc. But Lore remains the outlier and one which Redito attributes as one of the most integral parts of the Chaos vision.
"Web3 is very narrative-based, right? We are sort of painting a picture of what the future looks like: that is a narrative," Redito tells nft now. "So we thought, 'what would it look like if we incorporated these lores, these narratives into the creative process, into the software building process, into the NFT creation process.' And we found that to be really powerful."
Through Lore, Chaos has built an enigmatic storyline to coincide with the project. This storyline contains four unique acts: Order, Disorder, Entropy, and Rebirth. Created out of whimsy, metaphor, and humor, these acts not only help tie the grand vision of Chaos together but act as an event after which musicians are reshuffled into new bands, starting a new two-week creation period.
Yet, it seems that there is a lot more than lore and cross-functionality going on behind the scenes (which Chaim explains at length in a blog post focused on the admin side of things). The inner workings of Chaos only start to show when it comes down to the project's ultimate goal, which Chaim says is simply "to create a body of work that contains music and cover art released on a custom website."
The Chaos NFT drop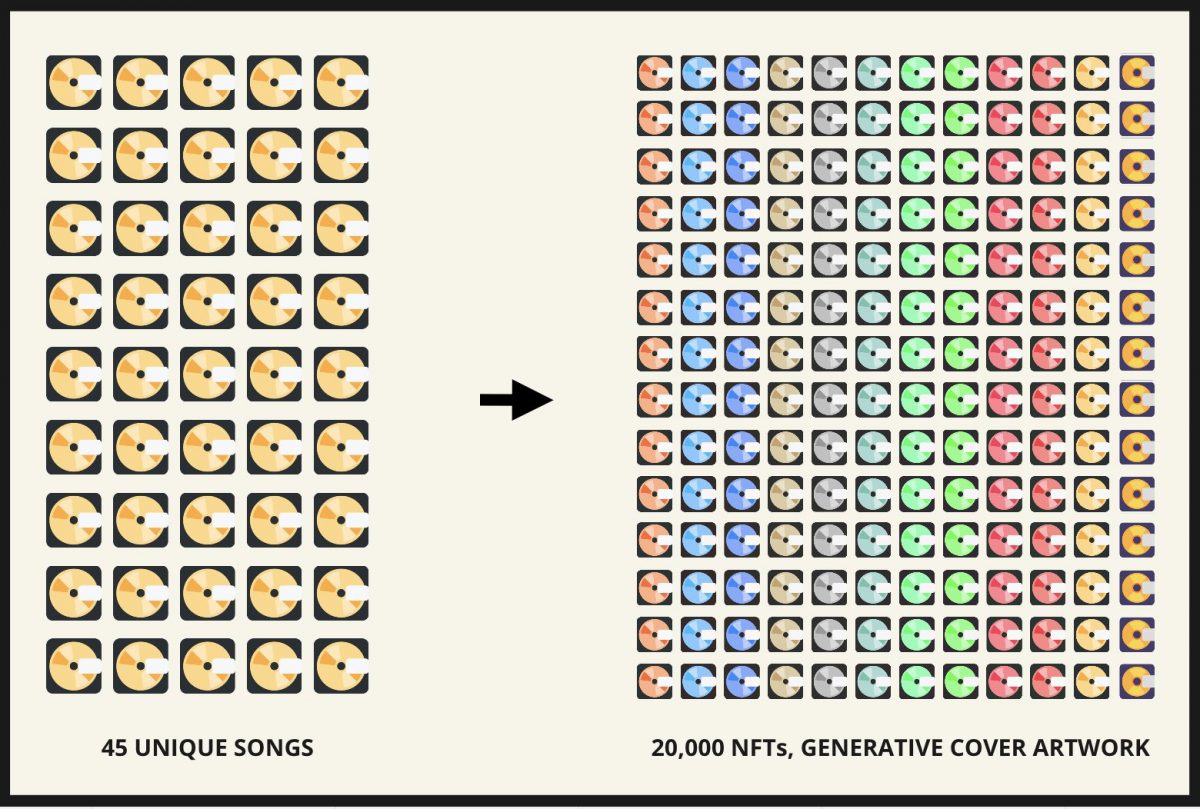 Launched on March 8, Chaos was originally scheduled to run for a total of eight weeks. Yet, it was clear to everyone once the project got underway that the intended release date would need to remain tentative until Chaos had made its way through the first few acts. Yet, with planning for the project stretching all the way back to November 2021, SongCamp seems to have set itself up for success and is now preparing to release the full Chaos NFT project into the wild.
Set to drop June 3, Chaos will be launched via Chaos.build as a collection of 5,000 NFT packs. Each of these packs will contain four music NFTs and collectors will have to decide whether or not to keep the pack closed (sealing in potentially rare NFTs) or open the pack, thus burning the pack NFT to reveal the four song tokens.
With the full release of the Chaos NFT project, we will see 45 songs minted into a collection containing over 20,000 unique NFT editions of each song. The cover artwork for each NFT will also be unique, composed of multiple generative visual layers with varying rarity traits.
Considering the complexity of this project as well as the multi-faceted randomization of its NFTs, the final Chaos collection will undoubtedly be indicative of one of the most comprehensive and collaborative music NFT ventures the NFT space has ever seen. But it seems the fun will only have just begun once Chaos is live on the blockchain.
Splitting revenue 80 ways
Although the underlying concept behind Chaos (as well as the overarching goal of the camp) is relatively easy to understand, things get a little convoluted on the economic side of things. There's no doubt that handling the moving parts of this venture was difficult, but all in all, it's the revenue splits that are the most complex.
This too was of course to be expected and the Chaos admins surely knew going into the project that each of these 77+ individuals would need to be paid for their work. So how did they plan to quantify and then equally split the revenue from this complex structure? Chaim says this will be achieved through a blend of universal basic income (UBI) and smart contract value splits.
Learn more about this galaxy-brain value flow design in our latest essay → https://t.co/wNGJD0v3qx

If you're more of an audio person, listen to last week's space also on this very topic of Value Flow!https://t.co/yYzV41AyvY

— CHAOS (@headless_chaos) May 11, 2022
First and foremost, each individual working on Chaos received a UBI: a one-time network-wide stipend. This UBI, sent out a few weeks into the project, was equal to 0.3 ETH (around $980 at the time) and was paid out to each artist working on Chaos. This was the first phase of payment.
The second phase of payment will be launched concurrently with the NFT drop. 100 percent of the revenue from the full 20,000 NFT drop will flow to a "Chaos Split" which is divided amongst the Camp Chaos network. This split is made up of 1,000,000 $CHAOS tokens which essentially are valueless tokens that those involved in the camp either received or gave out to others throughout the process of the camp.
In this way, all involved parties were incentivized to both self-evaluate and receive tokens or to evaluate the performance of their peers by giving them tokens. This in theory would create a fair, community-led allocation to be used to later divvy up funds. As Greydient tells nft now, this was also to ensure that all members were recognized for their efforts.
"Our hope was that [$CHAOS token sharing] would give us a good basis of how value should be spread across the camp," Greydient told nft now in an interview. "So both those mechanics together combined, self-selection and gratitude flow, is what will give you your final sort of percentage ownership at the end of camp."
As those involved with Chaos will ultimately have no direct link to any specific pieces of art they may have helped create, but rather to the value of the entire project as one whole, these mechanics seem to present a relatively fair distribution model. Yet, money doesn't actually come into play within the confines of the model, but rather a set of 1,000 extra NFTs gifted to campers based on the $CHAOS they received throughout the camp.
These Supercharged NFTs as SongCamp calls them, will be released in addition to the 20,000 public tokens but will be infused with something called Liquid Splits which allocate a certain percentage of project ownership to each individual. We won't dive too deep into Liquid Splits, and you can read more about them here. What is most pertinent to note about Supercharged NFTs though, is the importance of these novel mechanics.
Created by the same team who brought the 0xSplits protocol to life, Liquid Splits presents a new, innovative use case for NFT revenue sharing. Rather than creating a permanent split that directs proportional funds to each member's wallet address, these splits are tradeable — further gamifying the creation process while allowing holders to profit down the line by selling their Supercharged NFTs.
The attention to detail that went into creating all aspects of Chaos, including Liquid Splits, helps to illustrate the intentionality and soul behind what is undeniably a passion project. Released at a time when PFP projects rule the market and crypto prices are continuing to drop, SongCamp and Chaos are two endeavors that are undoubtedly pushing the boundaries of what is possible through NFTs and blockchain tech.
The post What Do You Call a Headless 77-Person Web3 Band? appeared first on nft now.