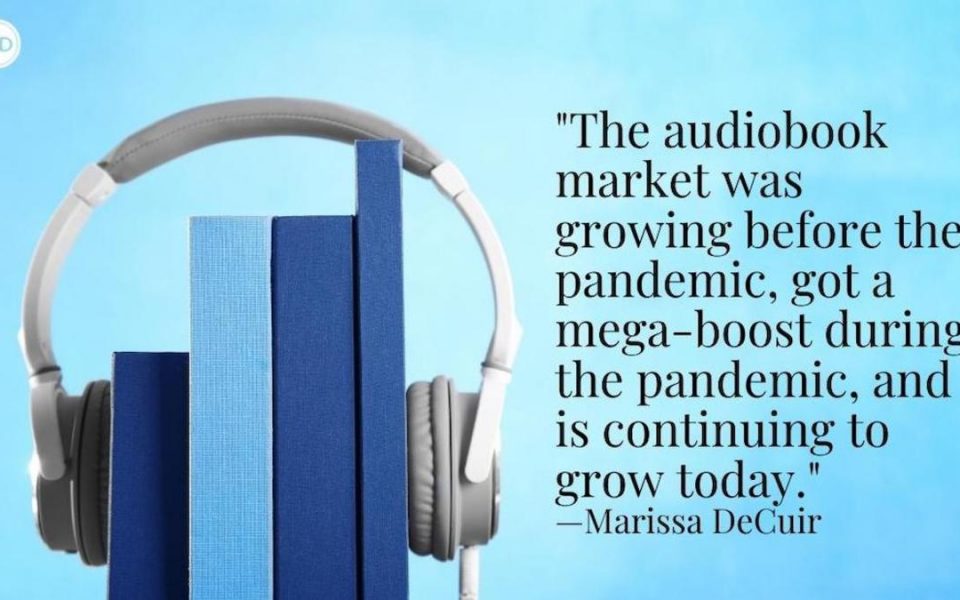 Why Audiobooks Are Skyrocketing, and How Writers Can Take Advantage in 2022
Audiobooks are the fastest growing format in publishing, but what exactly does that growth look like, and what should authors be doing about it?
In January 2022, The New York Times reported that book sales rose during the first year of the pandemic and kept rising, with sales increasing 13% from January to November of 2021 compared to the same period in 2020, according to the Association of American Publishers. Despite re-openings and a "return" to more varied forms of entertainment, reading remains on the rise.
(15 Tips on How to Record an Audiobook So People Will Listen)
Back in 2020, publishers experienced a 12% increase in audiobook revenue—the ninth consecutive year of double-digit growth, reported by the Audio Publishers Association.
The takeaway here is that the audiobook market was growing before the pandemic, got a mega-boost during the pandemic, and is continuing to grow today even as we move away from pandemic isolation and regain a sense of "normalcy."
And that growth shows no signs of stopping. Audiobooks are predicted to become a $19 billion dollar industry by 2027.
Authors have plenty of opportunities to take advantage of the rapid growth in audiobooks, and here's how:
1). If your publisher is not already producing an audiobook for you, this could be something you pursue on your own. Genre fiction, true crime, and self-help books thrive in audio. And if you're a romance or mystery author, you are in a prime position to boost your book sales. These genres dominate the audiobook landscape and have a devoted and voracious fanbase. So if you write in these genres (as well as other popular ones like inspirational, business, crime, suspense, thriller, sci-fi, fantasy, and horror), now is the time to make sure readers can listen to your book as well as read it! In some cases, this could even mean two sales per reader as some people prefer to read both versions simultaneously.
2). Invest in audiobook promotion. Once your audiobook is produced, it is available for download indefinitely and certainly worth putting some promotional effort into getting it noticed! One of the special things about audiobooks is that readers don't necessarily have to "set aside" time to engage with the story in the way they do when "reading" a print copy or watching TV. Most people tune in to audiobooks while multitasking (such as cleaning or driving), making mundane tasks more enjoyable. Instead of "competing" for a reader's time, audiobooks enhance the limited time readers already have. This makes audiobooks a desirable (some may say addictive) form of entertainment that readers actively and regularly pursue (particularly once they've signed up for services like Audible and Overdrive). Regardless of when your print book debuted, your audiobook could have a longer shelf-life and an audience that is actively looking for their next fix.
3). Get ready for new (and for indie authors, perhaps less expensive) audiobook production technology. For example, Ingram has partnered with Deepzen to make AI audiobook narrator technology available to Lightning Source authors. The AI narration uses a realistic text-to-voice technology "capturing all the elements of the human voice," which could save authors thousands of dollars on hiring a "real" narrator. Technological advances in audiobook production will increase with demand, so it will benefit authors to stay in-the-know about what audio options are accessible.
4). Understand where your particular audience is getting their audiobooks. Audible dominates the audiobook retail space, OverDrive's Libby app is a major library resource, and LibroFM and Hoopla continue to be key players. In November 2021, Spotify announced that it had purchased Findaway, one of the largest audiobook distributors in the U.S. (and they budgeted a cool $3.5 billion to expand their audiobook and podcast offerings). It's just as important to understand the major players in audiobook availability as it is to understand your print and e-book distribution, so you can make sure you're reaching your audience most effectively.